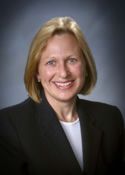 Alison Rose-Ped, President and Founder
 
 Alison Rose-Ped, President of Empirica, has over 20 years of 
 experience in the healthcare industry.  Alison founded Empirica 
 in the spring of 1998.  Her inspiration for the company was 
 based on her passion for the sciences, interest in new product 
 development, and belief that knowledge of the marketplace 
 is essential when developing and marketing new products.

 Prior to founding Empirica, Alison was senior vice president of 
 MedSearch.  Before MedSearch, Alison held a variety of 
 positions with Syntex Corporation.  Her responsibilities 
 included management of product development teams, marketing 
 research for new products, forecasting of new products and 
 line extensions, strategic planning for several therapeutic 
 areas, and sales.  Alison has in-depth knowledge of many 
 therapeutic areas, such as allergy & immunology, cardiovascular 
 disease, infectious disease, neurology, ophthalmology, 
 oncology and pain management.
 
 Alison has a special interest in working with patients and has 
 several publications focusing on patients' experiences while 
 undergoing treatment for cancer.  These publications are 
 available in full on the publications page.

 Alison graduated from the University of Oregon with two 
 degrees, a BS in Biology and a BS in Business Administration, 
 and is a member of several professional organizations.  
 Alison has served and held leadership positions on the board
 of trustees for the French American International School. 
 Additionally, she was a member of the founding board of trustees
 for the Internationally High School of Portland.